Critical thinking, analysis and reasoning constitutes the essence of academic work. In this webinar session, we will discuss the guiding principles of critical reasoning within the context of Islamic studies and treat such topics as how to construct or deconstruct an argument. Read more…
The Islamic College heartily congratulates the winners of the 2015-16 awards!
The Awards Committee chose Yasmin Ahmed's work, titled Transcending Idiosyncrasy: An Investigation into the Appropriation of Islam by Muslims, as the winner of the Ibn Sina Award for best MA Dissertation. Yasmin is pictured below receiving her award – comprising a plaque and the sum of £300 Read more…
Islamic studies is quickly becoming one of the most popular subjects to study. As Islam begins to play a more influential role in current events, both in the UK and abroad, a deeper understanding of its core principles, its history and its future has never been more important. Read more…
On this auspicious occasion of the Day of Arafa'h, The Islamic College is pleased to announce the launch of its new website. Over the past few months, our IT and Marketing deprtments have worked together to bring this project to life whereby the college has an updated website with all the information that would be useful to both our academic staff and the students.
Please note that while we have extensively tested the site to ensure that all aspects are fully functional, you may still encounter errors or broken links. If so please email us: feedback@islamic-college.ac.uk
Also the ICAS Press Bookshop is not processing any orders yet, this is due to a technical issue that is currently being fixed. In the meantime if you do wish to place any orders please email: bookshop@islamic-college.ac.uk
Before coming to London in the mid-1990s to establish the Islamic College, Dr Elmi studied Islamic philosophy, 'Irfan, Islamic jurisprudence, and Quranic sciences at the Hawza of Qum under such luminaries as Ayatollah Mirza Javad Tabrizi, Ayatollah Abdollah Javadi Amoli and Ayatollah Hossein Wahid Khorasani.
Read more…
The former director of the Islamic College in London, Shaykh Mohammad Jafar Elmi passed away in London today after a long battle with cancer.
He was the founder and the former principal of the Islamic College. Dr Elmi was a committed 'alim who will be remembered in the history of the Muslim community in Britain as the one who founded the first Islamic College that offered accredited degrees to its graduates. Read more…
ICAS Press are pleased to announce our latest publication
'Desire of the Aspirant: On the Etiquette of the Teacher and the Student'
is now available for sale.
The classical Islamic scholarly tradition is characterised by an emphasis on the teacher-student relationship. Learning is not simply seen as a material acquisition of knowledge, but rather as a means of induction into a living tradition. This classical work expounds upon the ideals for teachers and students. It is a translation of Munyat al-Murīd fī Adab al-Mufīd wa al-Mustafīd by the renowned scholar al-Shahid al-Thani. Read more…
An international conference on Shiʿi studies brings together speakers and participants from across the globe, some traveling from as far afield as Australia and Argentina. The conference was hosted at The Islamic College on the 7
th
and 8
th
of May in London.
 This year's conference successfully highlighted the diversity of new research within Shiʿi studies. Talks ranged from traditional scholarly subjects such as fiqh and hadith to sociological, anthropological, and epistemological studies. Key contemporary issues involving Shiʿas and Shiʿism, such as feminism and Tafkikis, were also discussed. Read more…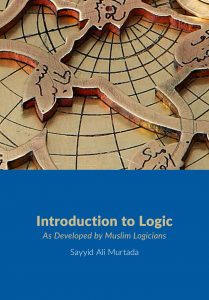 ICAS Press are pleased to announce our latest publication 'Introduction to Logic – As Developed by Muslim Logicians' is now available for sale.
This book is an English translation of Sayyid Ali Murtada's' Ilm al-Mantiq published in 2014. The Arabic original is based on Muhammad Rida al-Muzaffar's (1904–1963) al-Mantiq, a textbook on logic used in Islamic seminaries. The present work is an introduction to logic and deals with topics ranging from conception, judgment, and signification to the four relations, the five universals, and the definition of propositions, contradiction, and syllogisms.
The price of the book is £18.00 and the usual 30% discount for students applies. The book is now available for sale on our bookshop